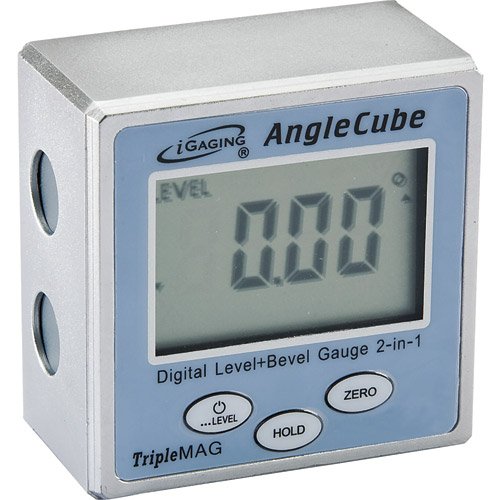 This Bad Boy Sports Six Srtong Magnets - Two on the Bottom - And Two on Each Side
Operation
The AngleCube has "Absolute Level" recorded as default in its memory and when first turned on it reads that absolute or true level.
The Angle Cube's "Zero Button" resets it to read zero on any surface angle and when moved to another surface it reads the "Relative Angle". Making it perfect for conduit bending.
Simple to Operate
The AngleCube automatically eliminates the age old problem of the tail of the conduit not being level when inserted into the bender.
To return to "Absolute Level" just push the ON/Off button for 3 seconds.
It also has a hold button.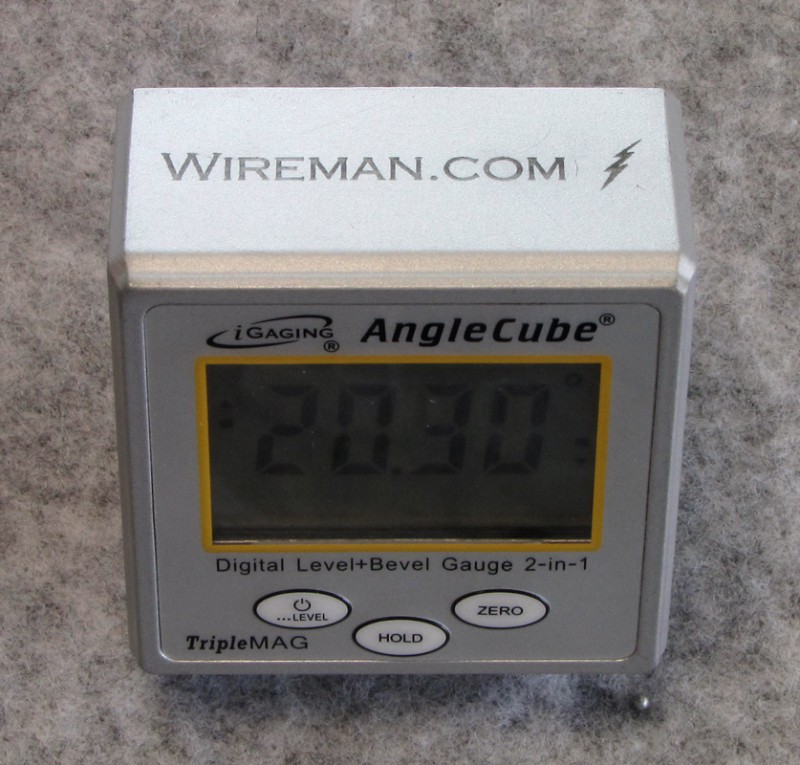 This item can be Personalized
I will Laser Etch your Name and it will replace the Wireman.com Logo for a fee of $7.00
You may have 2 Lines of Text
16 Characters Maximum
Each Line
The more Characters the Smaller they will be, So Keep it Brief.

Angle Cubes have a Painted Surface
Laser Etching Burns the Paint Off
Ecching Last Only Untill the Paints Gone
But it Identifies Your Tool
While it is New Bright and Shiney
Thats when it's Most Likely to Get Boosted
Features
USA made precision level trucking sensor
CNC machined super flat surfaces and edges
Heavy duty aluminum alloy body, chrome finish
Tracing absolute level
Measuring relative bevel
Strong magnets on the bottom and 2 sides
Large clear LCD display, reversible reading
Description
Measuring: 4 X 90° Repeatability: 0.05°
Resolution: 0.05° Accuracy: ± 0.2°
Battery: standard 9V included
Model 35-222-2
Two in One - Digital Level + Bevel Gauge
Only 2.17" L x 2.17" H x 1.2" W
Weight = 6.6 oz
Comments
This unit has decent magnets but I would not leave it unattended on the conduit while bending. Protect your level from falls by keeping a hand on it if the bender is in operation.
All foreign digital products come with cheap batteries. Protect your investment by replacing them with good quality alkaline batteries at your first convenience.
Instructions for Ordering
Select Your Product in the Options Box (
Between VIEW CART and ADD TO CART Below
) by Clicking on the
Down Carrot on the Right Hand Side of the Options Box
If You Select
Personalized
- a Drop Down Form will appear for you to choose the lettering.
You will receive a copy of the form in your email when you Add it to the Cart
Proof It by checking your lettering - You Are Responsible for Your Lettering
Have you Moved since you last used PayPal - You are responsible for your Current Address