Locates conduit KO centers 1/2" - 4" on panels, cabinets, junction boxes, walls & ceilings. Made in Manchester, New Jersey.
PACKAGE INCLUDES
Holocater
1 Hard Hat Pencil Clip
1 Graphite Sharpener
2 - Wireman #2 Pencils
Hard Hat Stickers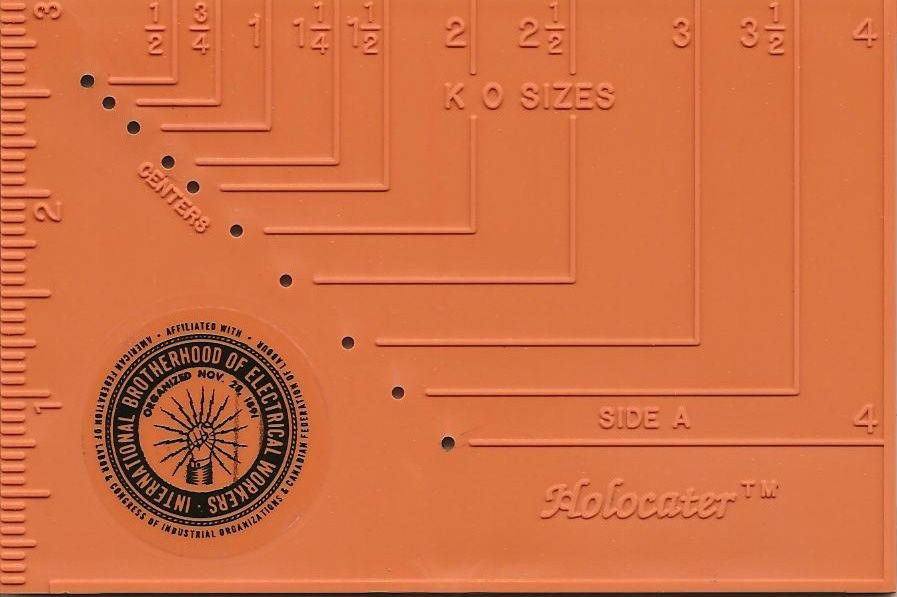 Inexpensive and durable. Learn to use in minutes. Complete instructions included. A real time saver and error eliminator.
Layout penetrations on walls, floors & ceilings. Patented in 1988.
Note: There is no substitute for a sharp pencil, that's why I sell the complete package.
Checkout "Wireman Accessories" in the navigation bar/window for additional Pencils, Sharpeners, etc.

Hi Al, Thanks for your interest in the Holocater. I will try to give you a little history which I hope you do not find boring, but I have 42 years invested in the Electrical Contracting Industry and have had a very rewarding experience which I did not anticipate. I began my career as an office manager for a IBEW contractor in 1964. Sorry if I bust your bubble, but I am not an IBEW member. However, I have always been an IBEW employer or have worked for an IBEW employer. I was a Past President and Governor of the New Jersey Chapter of NECA and have always had a great relationship with the IBEW business managers in New Jersey, Pennsylvania, and New York. Back to the Holocater. John Pressey was an employee of mine back in the 1970's and I am happy to say, we still remain friends along with our wives and frequently get together for old times sake. John is an IBEW member from Maine and a very qualified electrician and just a great guy. John was working on a large control project for a drug company which involved several small conduits into several control cabinets. John made the original Holocater on a piece of cardboard to save him layout time and showed me the piece of cardboard in his wallet one day. We decided to form a company, Competitive Concepts, Inc., to develop and market the Holocater. I spent a lot of personal time and money for this endeavor but it was at that time a losing adventure.